The Dr Cyril Hart Memorial Award
This award is presented to researchers who have received funding support from the Scottish Forestry Trust and who as a result of their research have produced publicly available, quality papers through a scientific journal; article or practice note which clearly demonstrates the translation of scientific research into practical information suitable for wider forestry sector consumption. The award may also be given to papers which contribute to the enhancement of silvicultural practice.
From 2022 onwards the Award will be presented every two years. It is expected that nominations for the 2022 award will open in November 2021 with details of the process to be posted here. To be eligible for the 2022 award papers must have been published between January 2020 and December 2021.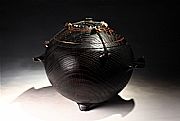 The award is in memorial of Dr. Cyril Hart who obtained his forestry and land training under the late Major C. P. Ackers of the Huntley Manor Estate, acting as land agent, and later as Managing Director of the associated companies of Forest Products Ltd., and Woodland Improvement Ltd., at Huntley. In addition, Dr Hart managed forestry estates in England, Scotland and Wales, and lectured in forestry and estate economy at the Royal Agricultural College at Cirencester and wrote many books on forestry in general and the Forest of Dean in particular. Dr. Hart was elected a Verderer of the Royal Forest of Dean in 1952, and for most subsequent years was H.M. Senior Verderer until his death in 2009. He acted for many years as the Chairman of H.M. Inclosure Commissioners of Dean Forest, and served as a member of the B.B.C. Regional Advisory Council, and the South West Regional Hospital Committee. Dr. Hart was awarded the O.B.E. In 1982.
The award takes the form of a specially created trophy which was commissioned from and created by Angus Clyne of Murthly, Perthshire.