The Sylva Project
Carried out by: Royal Botanic Gardens Edinburgh and the Sylva Foundation Trust
Summary Description:
The Royal Botanic Garden Edinburgh and the Sylva Foundation Trust are delivering an innovative public engagement and learning initiative, the Sylva Project. The Project will run from the end of April 2014 to April 2015 and will engage directly with more than 100,000 people on issues relating to forestry, tree selection, silviculture and landscape, by delivering a touring exhibition and events programme. The aim of the Sylva Project is to increase understanding and awareness of forest utilisation among public audiences at seven botanic gardens and arboreta across the UK and Ireland. The Project takes it inspiration from two pivotal publications: John Evelyn's 1664 Sylva and The New Sylva to be published by Bloomsbury in April 2014. It will focus on how forestry in Britain has changed over the 350 years between these books and consider what prospects hold for the future.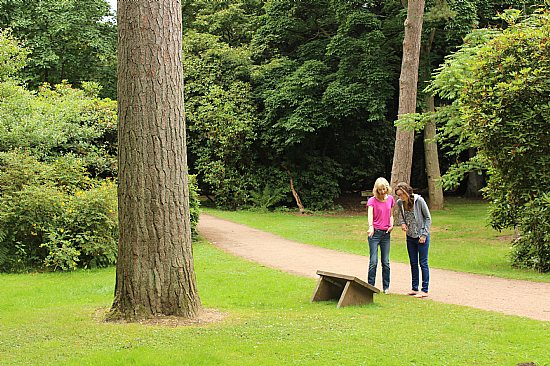 Timescale: 2014-2015
SFT Funds Awarded: £7,500
Project Outcomes: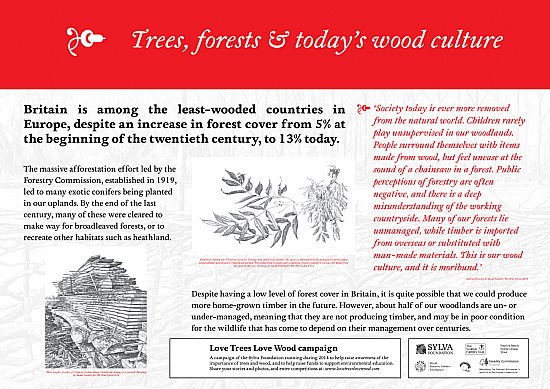 How have the results been used?
The Sylva Project ran from February to November 2014 involving exhibitions, a film, a book, events, trails and activities at leading botanic gardens and arboreta across Britain and Ireland. The inspiration for the Project was the milestone publication The New Sylva by Gabriel Hemery and Sarah Simblet which marked the 350th anniversary of the publication of the original Sylva by John Evelyn.

There is probably no point in the last 350 years when trees have featured so prominently in the consciousness of ordinary people; or a time when the future of forests in the British Isles looked so encouraging. An appreciation that the benefits to be gained from diverse and productive forests are not simply economic but include the positive effects woodlands have on the environment, on biodiversity, quality of life and on health and wellbeing was at the heart of this Project. The outcomes included increasing the general level of understanding of these benefits within society and in particular an appreciation of our relationship with the changing landscape of the British Isles. The Project also aimed at encouraging and supporting people in taking an active part in the resurgence of woodland-focused activity that is taking place across the land.

The major achievements of the ten month Project were:
 The promotion of a positive and accessible message concerning forestry and the essential relationship between trees, people and the environment, among a large and diverse audience, exceeding 100,000 people, across the country;
 Meaningful engagement with tens of thousands of people through a variety of media including a touring exhibitions, film, book displays, outdoor tree trails, public events, educational activities and social media;
 The animation of nationally important living tree collections, demonstrating the context, both historical and contemporary, and value of those species thatconstitute the majority of our planted woodland and forestry estate.