OneOak Tree Exhibition - Royal Botanic Gardens Edinburgh
Carried out by: The Sylva Foundation
Summary Description: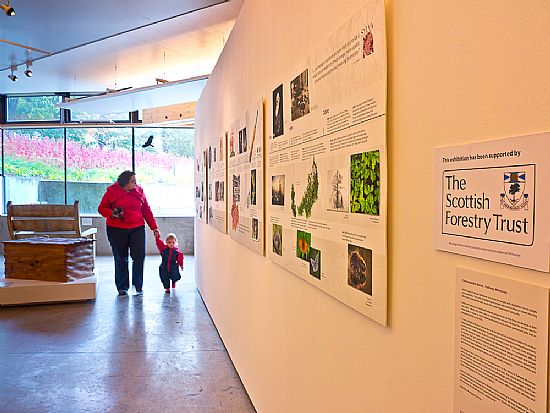 The concept of OneOak project has been to use the full story on a single tree as the foundation to an educational initiative promoting forestry (woodland management) and wood use to the public. The project concludes in 2012.
A typical British oak was donated by Blenheim Palace in late 2009, and since then has been followed closely by 250 Oxfordshire children, and by the wider public through events, exhibitions, a dedicated website and social media. The ordinary tree has become one of the most studied trees in Britain, thanks to support from Forest Research and other scientists (e.g. 3D laser scan, tree weight, carbon content). It has also featured in many stunning works of art, music and film.
The OneOak tree was felled in January 2010, and it has been used to make dozens of items from firewood, charcoal and woodchip, to braces in a timber-framed house and even sawdust used in smoking salmon by legendary chef Raymond Blanc. In the first half of 2012 some of Britain's best furniture makers, joiners and other craftspeople used the kilned wood to make numerous other items.
A large number of events and activities, together with the website (www.OneOak.info) have been successful in telling the stories in the project. The project concludes in 2012 with a series of major exhibitions at which all the pieces from the project will be increasingly brought together under one roof. The final and major exhibition was hosted by Royal Botanic Garden Edinburgh from October to December 2012.
Timescale: 2012
SFT Funds Awarded: £5,000
Project Outcomes:
You can read the final report for the OneOak exhibition at the Royal Botanic Gardens Edinburgh here.