Award Winners
Award winner 2013

The winner of the Scottish Woodlands Student Excellence Award for 2013/14 is Jo Clark, a former external PhD at Bangor University and Forestry Research Manager at the Earth Trust. Her thesis "Adaptation of ash (Fraxinus excelsior L.) to climate change" was successfully completed during 2013.
Speaking from her home in Oxfordshire, Jo said, "I thank the Trust and Scottish Woodlands for this recognition and I am extremely happy to have been able to contribute to this important area of research. The results highlighted the need to keep as broad a genetic base as possible in light of the likely impacts of climate change, but are also pertinent in the face of such problems as ash dieback and the other myriad diseases that are affecting many of our timber trees. I am really delighted that the work has been recognised."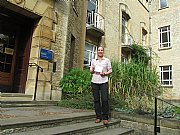 A small seminar was held in the Department of Plant Sciences, University of Oxford, on the 26th September looking at the future of ash trees and woods in the light of climate change and the threat from ash dieback. Among the presenters was Jo Clark from the Earth Trust at Little Wittenham. Scottish Forestry Trust trustee, Dr. Keith Kirby made the award presentation to Jo at the meeting. The photograph shows Jo on the steps of the Department of Plant Sciences, having received her cheque.
Award winner 2012
The winner of the Scottish Woodlands Student Excellence Award for 2012/13 is Greg Searles, a postgraduate student then based at the Forest Products Research Institute, Napier University, Edinburgh. His thesis on "Improving the quality of Sitka spruce structural timber through raw material segregation and alternative sawmill cutting patterns - Acoustic segregation and structural timber production" was completed in 2012. Recent research mapping the properties of the British spruce resource has given reason to be concerned about the trend in quality over time; particularly in respect of stiffness, which is the property that determines structural grade for British spruce. The research shows that by processing lower stiffness logs differently it would be possible to reduce strength grader failure rates although the economics of this would depend on market values and production costs.
Award winners for 2011
This award was given twice in 2011 in recognition of two excellent pieces of work which reached a conclusion during the year. The awards were presented to:-
Dave Auty, a post graduate student then based at the University of Aberdeen, carried out research into "Modelling the effects of forest management on the wood properties and branch characteristics of UK-grown Scots Pine". His thesis has helped to clearly identify the effects of different types of silviculture on the wood quality properties of Scots Pine and has identified clear areas for further research in the future.
Matti Salmela, a post graduate student then based at the University of Edinburgh and the Centre for Ecology and Hydrology, who carried out research into "Testing the Adaptive Significance of Seed Zones in Scots Pine". His thesis has clearly shown that there is strong evidence for genetic variation among native Scots pine populations in Scotland in terms of phenology and response to low winter temperature and drought. Geographic patterns of genetic differentiation are not random, as would be expected under genetic drift, but are related to patterns of underlying environmental variability.
The SFT's Annual Report and Financial Statements are available to download and read here. ...
Learn more »
Trustees were delighted to receive a further contribution towards research into reducing risks in afforestation and in particular restocking forest...
Learn more »
Our Annual Report and Accounts for 2016-17 is available to download from our website. ...
Learn more »